"The Tightrope Walker"
by Hermine Demoriane
available to purchase from The Blondin Memorial Trust (see below)
"The Tightrope Walker"
by Hermine Demoriane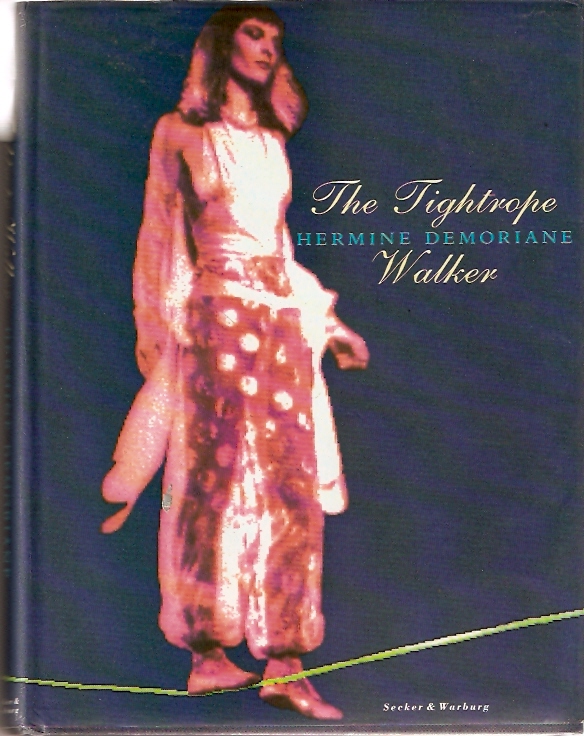 Prologue: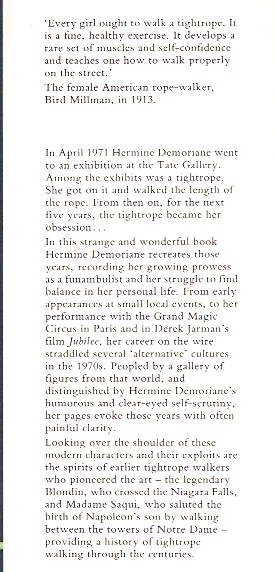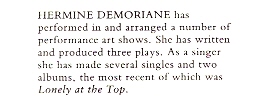 Excerpt Printed from the "Guardian" Newspaper dated 23rd February, 2011:
Barry Miles's top 10 counterculture books - From Soho beatniks of the 50s to suburban punks in the 70s, the social historian turns us on to the best tales of London's defiant fringe, told by some of the key participants.
Barry Miles is the author of biographies of Allen Ginsberg, Jack Kerouac, William Burroughs, Charles Bukowski and other books about the Beat Generation. He wrote the authorised Paul McCartney biography as well as books on Frank Zappa and other rock'n'roll heroes. Among his studies of the counterculture are In the Sixties; Hippie; Let Me Take You Higher and, his most recent, London Calling, a Countercultural History of London Since 1945, which is published in paperback this month by Atlantic Books.
"I have an entire shelf of academic studies of bohemianism, the avant garde and the counterculture - the behaviour of beatniks, mods, rockers, hippies and punks - but I always prefer the memoirs of the actual participants. Only here do you get the flavour of day-to-day living, their concerns and gossip, what they eat, drink and wear, their attitudes to sex and politics, the background and context of life in the counter-culture. I have concentrated entirely on the London scene because that is the one I know and was a part of. They are in no particular order."
10. The Tightrope Walker by Hermine Demoriane
This is a strange and beautiful memoir of the early 70s by Hermine: a singer with numerous albums, a playwright, an actress on both stage and film and a performance artist. For five years from 1971 she became a tightrope walker. The book mixes performance notes with a very intimate personal diary, giving a very accurate picture of London's avant-garde scene at that time.
Signed copies of
"The Tightrope Walker"
may be purchased direct by sending
a cheque for £20.00 made payable to The Blondin Memorial Trust.
Please mail to:
The Blondin Memorial Trust, 3 Raleigh Street, London N1 8NW