This Webpage is dedicated to "Blondin" (Jean Francois Gravelet),
Funambulus,
Equilibrist (Tightrope-Walker), Aerialist
and Acrobat Extraordinaire
It also contains a History of Tightrope-Walking [funambulus/funambule] by way of 'Anecdotes
and Quotes Through the Centuries' and videos of various modern-day funambule
The trust seek to commemorate his life by giving talks, lectures and tightrope events.
Our aim is to preserve and honour his memory and raise funds to renovate and
maintain Blondin's grave and monument.
---
Serving to commemorate "Blondin"
Born 29 February (Leap Year) 1824 - Died 22 February, 1897
"BLONDIN"
Funambulus (Tightrope Walker)
Born Jean François Gravelet on 29 February 1824 at St.Omer, France.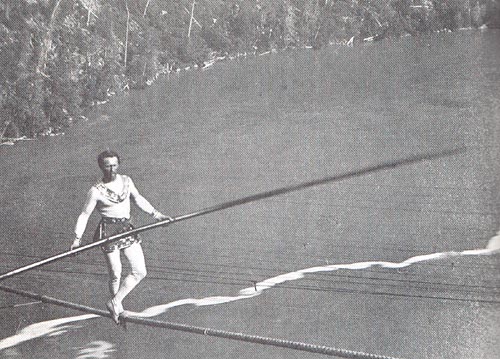 The famous "Blondin" on the tightrope
"Funambulus" comes from the ancient Greek: from funis, a rope, and ambulare, to walk.
Blondin learnt to walk a tightrope from a very early age.
At the age of 35 on 30 June 1859, he first accomplished the feat of crossing the gorge below the Niagara Falls - a distance of around 1100 feet using a tightrope, thus creating his celebrity and fortune. The tightrope was 50 metres (160 feet) above the water, nearly half a kilometre (over quarter of a mile) long and just 7.5cm (three inches) in diameter. Blondin's obsession with the Niagara Falls continued and he actually made a further 16 crossings, each one more daring than the last:
He crossed it blindfolded, pushing a wheelbarrow; once he carried a stove, stopped half way across and cooked himself an omelette and on another time he crossed on stilts. In August 1859 he crossed the gorge with his manager Harry Colcord on his back.
According to legend Colcord claimed that the trip was truly terrifying with broken guy ropes causing the rope to swing violently and Colcord had to dismount half way across. In 1860 the Prince of Wales watched Blondin cross Niagara Gorge. He was asked if he would like to be carried on Blondin's back for the return journey. He refused.
In 1861 he first appeared in London at Crystal Palace and toured the United Kingdom and Europe, subsequently ending his performances with one in Belfast, Ireland in 1896
He died 22nd February 1897, having twice married and is buried in Kensal Green Cemetery, London, England.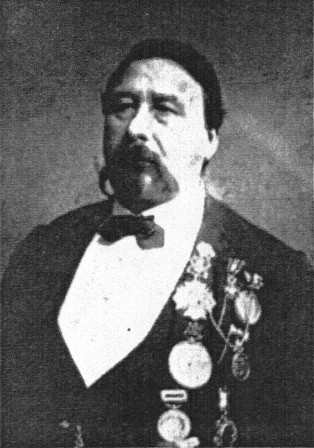 "Blondin"
The Blondin Memorial Trust
The members of the Trust meet once a year at Blondin's Grave in Kensal Green Cemetery to honour his memory with a Toast.
All who are interested are cordially invited to attend.
The trust seek to commemorate his life by
giving talks, lectures and tightrope events. Our aim is the renovation and
maintenance of Blondin's grave and monument.
We seek funds in order to
renovate the tomb of Blondin.
Next Gathering:
Saturday, 25th February, 2017, 2.00 p.m.
All are Welcome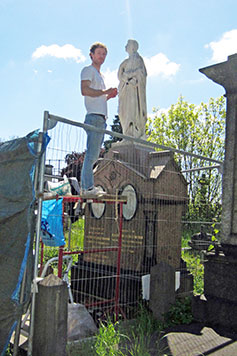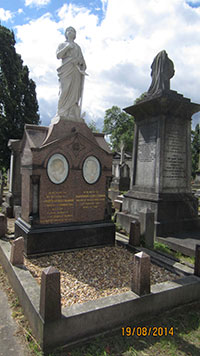 Above left: Louis Inigo Russell. Below: Tim Demirer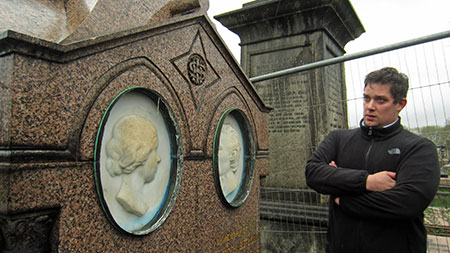 Please join with no fee if you support our aims. Donations are appreciated to upkeep the Kensal Green grave.
Any person wishing to join our small group, or who are interested in booking a talk or lecture or tightrope event, please use our contact e-mail page
Places of interest:
Kensal Green Cemetery [Grave No 13198 Square 140 Row 1]
Niagara Falls & Public Library
Ladywood Middleway Birmingham - Statue erected 1992
Blondin on Facebook: https://www.facebook.com/groups/102094985459/
Books of interest:
"The Tightrope Walker" by Hermine Demoriane
1989 Martin Secker & Warburg Ltd
[160 pages about the art of tightrope-walking and a biography of the Author]
Website Created by Bluey Brattle February 2008